In the summer of 2013, I invited several artists to freely explore the AR space and its art making potential. Conceptual and technical support was provided and the artists were given complete access to their own AR channel and virtual studio.
dance-tech is pleased to announce the launching of the first dance-tech Augmented Reality creative project developed by NY dancer and choreographer Adam H Weinert.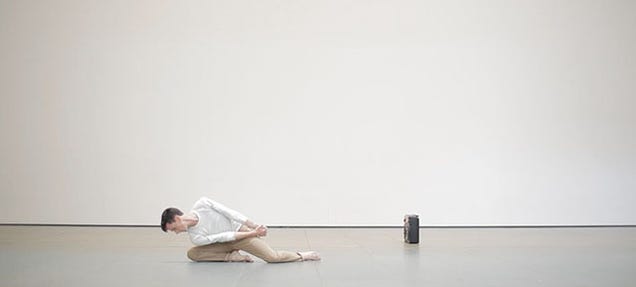 Adam created THE REACCESSION OF TED SHAWN as a digital installation in The Museum of Modern Art without the museum's consent.
He "placed" a permanent installation of his recent performances at MoMA in the AR environment. Through the use of the dance-tech.tv AR app, visitors are able to view footage of his performances simply by using their smartphones or tablet to the museum galleries where he performed in October of 2013.
His project implicate the  uses of the mobile technology questioning notions and affordances of exhibition space, archive, participation, institutional legitimation, interfaces and mediation.
From project website:
"By installing the re-performances of Ted Shawn's choreography inside the museum walls, Weinert strives to perform an act of "Reaccession".  This perlocutionary flip, made possible by the use of AR and video documentation, trespasses on the museum and exposes aspects of its relation to its audience, to dance and to dance history usually unseen.  The Reaccession of Ted Shawn challenges notions of the archive and re-performance as understood by recent scholarship in performance studies and art history by way of digital, performative intervention and offers a new vector for displaying performance in museum spaces - one which honors the vision of the authors and transforms the museum into more than a cenotaphic display."
Here you can see some screenshots:
Media coverage:

Great work Adam!